Map of Kathmandu- Nepal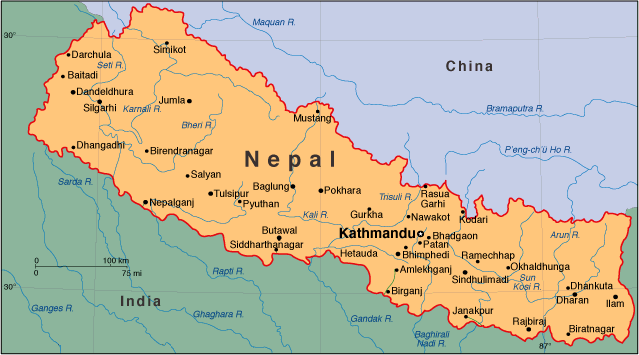 Kathmandu is the capital city of the Federal Democratic Republic of Nepal, the largest Himalayan state in Asia. It is the largest metropolis in Nepal, with a population of 1.4 million in the city proper, and 5 million in its urban agglomeration across the Kathmandu Valley, which includes the towns of Lalitpur, Kirtipur, Madhyapur Thimi and Bhaktapur. Kathmandu is also the largest metropolis in the Himalayan hill region.
The city stands at an elevation of approximately 1,400 metres (4,600 feet) above sea level in the bowl-shaped Kathmandu Valley of central Nepal. The valley is historically termed as "Nepal Proper" and has been the home of Newar culture, a cosmopolitan urban civilization in the Himalayan foothills. The city was the royal capital of the Kingdom of Nepal and hosts palaces, mansions and gardens of the Nepalese aristocracy. It has been home to the headquarters of the South Asian Association for Regional Cooperation (SAARC) since 1985. Today, it is the seat of government of the Nepalese republic established in 2008; and is part of the Bagmati Zone in Nepalese administrative geography.
Kathmandu has been the center of Nepal's history, art, culture and economy. It has a multiethnic population within a Hindu and Buddhist majority. Religious and cultural festivities form a major part of the lives of people residing in Kathmandu. Tourism is an important part of the economy as the city is the gateway to the Nepalese Himalayas. There are also seven casinos in the city. In 2013, Kathmandu was ranked third among the top ten upcoming travel destinations in the world by TripAdvisor, and ranked first in Asia. Historic areas of Kathmandu were devastated by a 7.8 magnitude earthquake on 25 April 2015. Nepali is the most spoken language in the city, while English is understood by the city's educated residents.
Population: 1,224,000 (2016)
Language: Nepali is the most spoken language in the city, while English is understood by the city's educated residents.
Currency
Exchange rates are published in English daily newspapers such as The Rising Nepal and The Kathmandu Post. Nepalese Rupees are found in denominations of 1000, 500, 250, 100, 50, 25, 20, 10, 5, 2 and 1. Coins are found in denominations of 10, 25 and 50 paisa. One rupee equals 100 paisa.
Geography
Kathmandu is in the northwestern part of the Kathmandu Valley to the north of the Bagmati River and covers an area of 50.7 km2 (19.6 sq mi). The average elevation is 1,400 metres (4,600 ft) above sea level. The city is bounded by several other municipalities of the Kathmandu valley: south of the Bagmati by Lalitpur Sub-Metropolitan City (Patan), with which it forms one urban area surrounded by a ring road, to the southwest by Kirtipur Municipality and to the east by Madyapur Thimi Municipality. To the north the urban area extends into several Village Development Committees. However, the urban agglomeration extends well beyond the neighboring municipalities, e.g. to Bhaktapur, and nearly covers the entire Kathmandu valley.
Kathmandu is dissected by eight rivers, the main river of the valley, the Bagmati and its tributaries, of which the Bishnumati, Dhobi Khola, Manohara Khola, Hanumant Khola, and Tukucha Khola are predominant. The mountains from where these rivers originate are in the elevation range of 1,500–3,000 metres (4,900–9,800 ft), and have passes which provide access to and from Kathmandu and its valley. An ancient canal once flowed from Nagarjuna hill through Balaju to Kathmandu; this canal is now extinct.
Kathmandu and its valley are in the Deciduous Monsoon Forest Zone (altitude range of 1,200–2,100 metres (3,900–6,900 ft)), one of five vegetation zones defined for Nepal. The dominant tree species in this zone are oak, elm, beech, maple and others, with coniferous trees at higher altitude.
Climate
Five major climatic regions are found in Nepal. Of these, Kathmandu Valley is in the Warm Temperate Zone (elevation ranging from 1,200–2,300 metres (3,900–7,500 ft)), where the climate is fairly temperate, atypical for the region. This zone is followed by the Cool Temperate Zone with elevation varying between 2,100–3,300 metres (6,900–10,800 ft). Under Köppen's climate classification, portions of the city with lower elevations have a humid subtropical climate (Cwa), while portions of the city with higher elevations generally have a subtropical highland climate. In the Kathmandu Valley, which is representative of its valley's climate, the average summer temperature varies from 28–30 °C (82–86 °F). The average winter temperature is 10.1 °C (50.2 °F).
The city generally has a climate with warm days followed by cool nights and mornings. Unpredictable weather is expected, given that temperatures can drop to 1 °C (34 °F) or less during the winter. During a 2013 cold front, the winter temperatures of Kathmandu dropped to −4 °C (25 °F), and the lowest temperature was recorded on 10 January 2013, at −9.2 °C (15.4 °F). Rainfall is mostly monsoon-based (about 65% of the total concentrated during the monsoon months of June to August), and decreases substantially (100 to 200 cm (39 to 79 in)) from eastern Nepal to western Nepal. Rainfall has been recorded at about 1,400 millimetres (55.1 in) for the Kathmandu valley, and averages 1,407 millimetres (55.4 in) for the city of Kathmandu. On average humidity is 75%. The chart below is based on data from the Nepal Bureau of Standards & Meteorology, "Weather Meteorology" for 2005. The chart provides minimum and maximum temperatures during each month. The annual amount of precipitation was 1,124 millimetres (44.3 in) for 2005, as per monthly data included in the table above. The decade of 2000–2010 saw highly variable and unprecedented precipitation anomalies in Kathmandu. This was mostly due to the annual variation of the southwest monsoon. For example, 2003 was the wettest year ever in Kathmandu, totalling over 2,900 mm (114 in) of precipitation due to an exceptionally strong monsoon season. In contrast, 2001 recorded only 356 mm (14 in) of precipitation due to an extraordinarily weak monsoon season.
Culture
Arts
Kathmandu valley is described as "an enormous treasure house of art and sculptures", which are made of wood, stone, metal, and terracotta, and found in profusion in temples, shrines, stupas, gompas, chaityasm and palaces. The art objects are also seen in street corners, lanes, private courtyards and in open ground. Most art is in the form of icons of gods and goddesses. Kathmandu valley has had this art treasure for a very long time, but received worldwide recognition only after the country opened to the outside world in 1950.
 The religious art of Nepal and Kathmandu in particular consists of an iconic symbolism of the Mother Goddesses such as: Bhavani, Durga, Gaja-Lakshmi, Hariti-Sitala, Mahsishamardini, Saptamatrika (seven mother goddesses), and Sri-Lakshmi (wealth-goddess). From the 3rd century BC, apart from the Hindu gods and goddesses, Buddhist monuments from the Ashokan period (it is said that Ashoka visited Nepal in 250 BC) have embellished Nepal in general and the valley in particular. These art and architectural edifices encompass three major periods of evolution: the Licchavi or classical period (500 to 900 AD), the post-classical period (1000 to 1400 AD), with strong influence of the Palla art form; the Malla period (1400 onwards) that exhibited explicitly tantric influences coupled with the art of Tibetan Demonology.
A broad typology has been ascribed to the decorative designs and carvings created by the people of Nepal. These artists have maintained a blend of Hinduism and Buddhism. The typology, based on the type of material used are: stone art, metal art, wood art, terracotta art, and painting.
Cuisine
The staple food of most people in Kathmandu is dal bhat. This consists of rice and lentil soup, generally served with vegetable curries, achar and sometimes Chutney. Momo, a type of Nepali version of Tibetan dumpling, has become prominent in Nepal with many street vendors selling it. It is one of the most popular fast foods in Kathmandu. Various Nepali variants of momo including buff (i.e. buffalo) momo, chicken momo, and vegetarian momo are famous in Kathmandu.
Most of the cuisines found in Kathmandu are non-vegetarian. However, the practice of vegetarianism is not uncommon, and vegetarian cuisines can be found throughout the city. Consumption of beef is very uncommon and considered taboo in many places. Buff (meat of water buffalo) is very common.
Transport
The total length of roads in Nepal is recorded to be (17,182 km (10,676 mi)), as of 2003–04. This fairly large network has helped the economic development of the country, particularly in the fields of agriculture, horticulture, vegetable farming, industry and also tourism. In view of the hilly terrain, transportation takes place in Kathmandu are mainly by road and air. Kathmandu is connected by the Tribhuvan Highway to the south, Prithvi Highway to the west and Araniko Highway to the north. The BP Highway, connecting Kathmandu to the eastern part of Nepal is under construction.
The main international airport serving Kathmandu and thus Nepal is the Tribhuvan International Airport, about 6 kilometres (3.7 mi) from the city centre. Operated by the Civil Aviation Authority of Nepal it has two terminals, one domestic and one international. At present, about 22 international airlines connect Nepal to other destinations in Europe, Asia and the Middle East, to cities such as Istanbul, Delhi, Mumbai, Bangalore, Kolkata, Singapore, Bangkok, Kuala Lumpur, Dhaka, Islamabad, Paro, Lhasa, Chengdu, and Guangzhou. A recent extension to the international terminal has made the distance to the airplanes shorter and in October 2009 it became possible to fly directly to Kathmandu from Amsterdam with Arkefly. Since 2013, Turkish Airlines connects Istanbul to Kathmandu. Regionally, several Nepali airlines operate from the city, including Agni Air, Buddha Air, Cosmic Air, Nepal Airlines and Yeti Airlines, to other major towns across Nepal.
Ropeways
Ropeways are another important transportation means in hilly terrain. A ropeway operated between Kathmandu and Hetauda over a length of 43 km (27 mi) which carried 25 tonnes of goods per hour. It has since been discontinued due to poor carrying capacity and maintenance issues. During the Rana period, a ropeway was constructed between Kathmandu (then Mathathirtha) to Dhorsing (Makawanpur) of over 22 km (14 mi) in length, which carried cargo of 8 tonnes per hour. Now there is a cable car operated in kathmandu in Chandragiri.
Healthcare
Healthcare in Kathmandu is the most developed in Nepal, and the city and surrounding valley is home to some of the best hospitals and clinics in the country. Bir Hospital is the oldest, established in July 1889 by Bir Shamsher Jang Bahadur Rana. Notable hospitals include Bir Hospital, Tribhuwan University Institute of Medicine (Teaching Hospital), Patan Hospital, Kathmandu Model Hospital, Scheer Memorial Hospital, Om Hospital, Norvic Hospital, Grande International Hospital, Nobel Hospital.
The city is supported by specialist hospitals/clinics such as Shahid Shukra Tropical Hospital, Shahid Gangalal Foundation, Kathmandu Veterinary Hospital, Nepal Eye Hospital, Kanti Children's Hospital, Nepal International Clinic (Travel and Mountain medicine center), Neuro Center, Spinal Rehabilitation center and Bhaktapur Cancer Hospital. Most of the general hospitals are in the city centre, although several clinics are elsewhere in Kathmandu district.
Tilganga Institute of Ophthalmology is an Ophthalmological hospital in Kathmandu. It pioneered the production of low cost intraocular lenses (IOLs), which are used in cataract surgery. The team of Dr. Sanduk Ruit in the same hospital pioneered sutureless small-incision cataract surgery (SICS), a technique which has been used to treat 4 million of the world's 20 million people with cataract blindness.